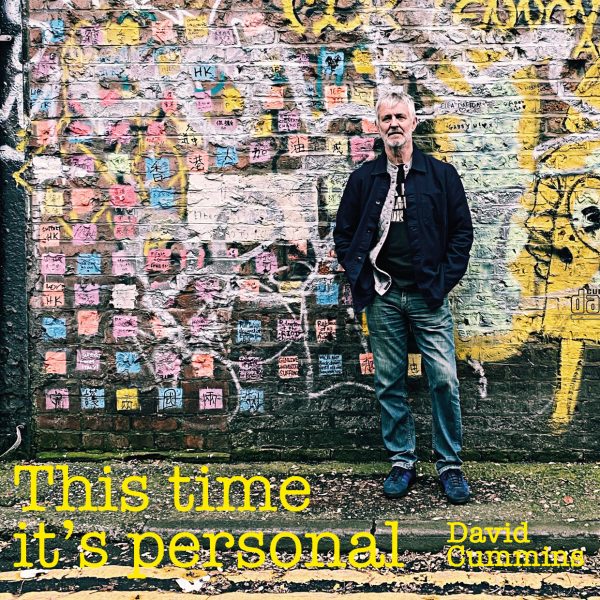 Due for release spring 2022
This Time It's Personal is a great album and David Cummins is an astute writer. One able to create music that is both easy on the ear and sustenance to the soul. When was the last time that rock music could be accused of that? 
The thing that captures the attention right from the start of David Cummins' latest album is its lush, wide-screen properties. So many artists throw every known sonic tricks and studio gimmicks at their songs, in an effort to stand out or appear musically astute, that you get distracted, focusing on the detail and your eye is drawn away from what is actually important. And what is actually important is the song itself.
With the confidence of knowing that he can write and arrange great songs comes a certain safety net and David Cummins focuses less on quantity and rather on quality, less on what is happening in the music and more on how connects with the listener. A case of emotional impact rather than musical force.
And the songs are all the better for it. Even when they are at their most understated and spacious, such as tracks like Hey There Blue Sky, Two of You and The Road Less Travelled, there is a sort of sonic bandwidth, a cinematic expanse to them which makes them feel deeper, more connective, more emotive than anything that mere sonic punch could achieve.
Blending elements of pop accessibility, folk integrity and rock drive he creates a gorgeous soundscape that is both perfect for the mainstream yet still ticks all of the boxes with the more discerning music fan. Breathe builds into a dramatic pop-rock anthem, one built on cleverly shifting dynamic and deft sonic choices and Dig Down is beguiling and hypnotic, running on a groove and with the grandeur that Pink Floyd harnessed so well.
But these are no progressive flights of fancy, David Cummins writes songs that are perfectly concise, compact musical structures but which still embrace a gorgeous and glorious sound palette as they flow. This is classic pop-rock, and it is pop as much as anything else, for the more mature listener. The sort of fan who remembers when the term pop wasn't a dirty word, when it wasn't beholden to transient tides of fad and fashion. The sort of person who still gives their Crowded House, the criminally overlooked Black, and even Dire Straits albums a nostalgic spin and revels in the musicianship and vision of what is found within.
'This Time it's Personal' will be out on all digital platforms spring 2022.
Listen to a pre-release preview of the track 'Breathe' from 'This Time it's Personal'
by David Cummins.
Due for release Spring 2022
'This Time It's Personal' Merch
Treat yourself to a 'This Time It's Personal' tee-shirt, sweat or hoodie.